How an Extra Freezer Can Save You Money
Economic inflation is causing the price of food to skyrocket and families are looking for ways to reduce their monthly expenses in order to maintain the quality of life they have become accustomed to. One way that consumers can combat the ever-rising cost of food prices is to invest in an extra freezer.
Whether you have a chest freezer in your garage or an upright freezer down in the basement, the extra space you'll gain to store your frozen goods will bring many benefits to you and your family.
Here are six reasons why having another freezer in your home is a practical investment that will not only save you time and money, but also promote a healthy lifestyle for you and your family.
1. Save Money on Grocery Bills
The average person goes grocery shopping one to two times a week. While there is nothing wrong with this, those frequent trips to the grocery store can quickly add up.
Having an extra freezer in the home will encourage you to take an in-depth look at your shopping habits and tweak them. By tweaking your shopping habits, you can save hundreds of dollars every month on groceries, without having to use coupons. You can also save more money on gas since you will not have to drive to the grocery store as often.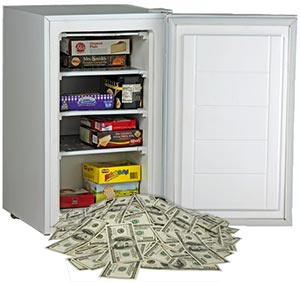 2. Purchase Food in Bulk
Purchasing food in bulk quantities means that you can purchase better quality food for a cheaper price, or just save more money on the food you would've normally bought. Most importantly, meats and cheese have a lower price per unit when they are purchased in larger quantities.
By dividing your bulk food purchases and preparing them in advance, you will not have to go to the grocery store as often. Purchasing food in large quantities also gives you the flexibility to purchase food only when it is on sale to save additional money. Purchasing food in bulk sizes makes it easier to store and prepare meals in advance.
3. More Storage Room
The average person has a limited amount of storage space for their food. Less space means frequent trips to the grocery store. Frequent trips can actually put a significant dent in your budget, because there is always the risk of waste due to purchasing more food than you can immediately use.
With an extra freezer inside of your home, you will have enough freezer space to store your groceries. You can purchase large quantities of meats, fruits, and vegetables and freeze them for future use.
Common ways to store freezer foods include:
Place pre-measured portions of cut up vegetables and meats into a storage bags and containers for future oven and crock-pot meals.
Label all foods with the date they are placed into the freezer for storage.
Use small containers to prevent freezer burn and preserve quality.
Always cool hot foods prior to freezing them.
4. Better Time Management
One reason why so many people avoid cooking is that they simply do not have the time or energy to do so. With an additional freezer in the home, one can prepare meals in advance and freeze them. If you happen to have a free day such as Sunday, use that day to prepare your meals for the rest of the week.
Once the meals are frozen, you can pull a meal out each day and heat it up in the oven while you handle other tasks. It is not necessary for one to be in the kitchen the whole time their meal is cooking. Preparing your meals in advance will give you time to deal with other things and give you more personal freedom.
This will also help put an end to any impulse grocery shopping and restaurant trips.
5. Reduce Food Waste
How much food do you throw away each month? Have you ever noticed that some of the food you are tossing in the trash has not been touched since it came from the supermarket?
Have you noticed that wasted leftovers are a frequent occurrence in your home? Your lack of time and frequent trips to the grocery store cost you money that you don't have to spend.
Instead of resolving to be a savvier shopper, start using an extra freezer in your home. That freezer will keep you from throwing away so much food each month, and keep you from having to repurchase items anytime soon. Leftovers can be frozen for future consumption. By freezing your meats, fruits, vegetables, and leftovers, you gain more time to use them.
Standard Times for Frozen Foods Include:
Ground meats can last up to three to four months in the freezer.
Cooked meats can be frozen up to four months.
Different cuts of meat can last up to a year in the freezer.
Fruits and vegetables can last as long as eight to twelve months in the freezer.
Soups and stews can be frozen anywhere from two to three months.
Cooked leftovers can be stored in the freezer for as long as two months.
6. Incorporate More Healthy Foods Into Meals
Prepackaged and processed foods may seem like they are convenient items to add to your grocery bill, however they cost more money and often have unhealthy ingredients. This can cause you to become dependent and addicted to certain foods, although they hold no nutritional value for you and your family.
Encourage healthy eating habits by purchasing healthier foods. Purchase fresh fruits and vegetables in bulk when they are in season, and freeze them for use throughout the rest of the year.
Save Time & Money with an Extra Freezer
It doesn't matter what type of freezer you use, having this extra appliance can be a real life-saver for you and your family. From reducing waste to helping you prepare meals in advance to saving you time and money, there's no doubt that having an extra freezer is guaranteed to improve the quality of your life.