During those hot summer months, your portable air conditioner can be the reprieve you need to stay cool. There's nothing quite like the feel of cool freon on your skin, especially as the mercury starts to soar.
It not only helps cool your living areas, but a portable air conditioner can help save you money on your monthly energy bills. But, like most appliances in your home, a portable AC unit can only do this if you take proper care of the device. If you fall behind on performing basic maintenance, fail to install it properly, or simply get lazy about cleaning the device, your portable air conditioner will struggle to run at its full capacity.
Below, we'll take a closer look at some of the basic maintenance tips you can follow to keep your portable air conditioner in its best shape (and helping you stay cool for years to come).
---
Know Where to Install (And Not to Install)
One of the biggest advantages of using a portable air conditioner in your home is that it's easy to move from room to room. However, where you install it within the room will play a significant factor in how well the air conditioner operates and cools the space.
Tips to Installing Your Portable Air Conditioner:
Whether you're moving it from room to room, or just installing the AC unit for the first time. Here's a few things you should consider as you install your portable air conditioner in your home.
1. Avoid Installing in Dusty Areas:
You should never install your portable AC unit in an area that is dirty or dusty. Small particles may start to clog either of the two motors in the appliance, which will eventually lead to further electrical or mechanical problems.
2. Avoid Placing Near Pet Bed:
Much like the dirt and dust, the fur your pet sheds may start to accumulate in the device. Furthermore, if you don't have a good filter in your portable air conditioner, pet dander may get sucked into the device and possibly compromise your indoor air quality.
3. Do Not Install Directly Against the Wall:
This is very important to keep in mind. In order for your portable air conditioner to work both efficiently and properly, it needs to be at least 12-16 inches away from the wall. This distance may vary from unit to unit, so make sure you read the owner's manual that comes with the device.
4. Make Sure It Can Drain Properly:
If you're using your portable air conditioner in a humid room, then the device will pull more condensation from the air, and need to be drained regularly. Most AC units will come with a drain tube that can help remove any liquid, but it would be wise to make sure this is working properly to avoid any mishaps.
5. Use the Right Power Source:
If your power source is not operating on a circuit that can accommodate your portable air conditioner, you run the risk of a shortage or busted fuse. Make sure the circuit can supply 120 VAC. This gives your A/C unit enough power to start up the compressor and fan motors.
You may also consider spending a very small amount of money on an electrical surge protector. This will help you in the long run should you experience a sudden and unexpected power surge.
---
Keep the Exhaust Hose Short & Straight
A small tip involving the exhaust can go a long way. When you install the hose, make sure it is as short and straight as it can be. This will help prevent excess moisture from collecting inside the hose, as well as mitigate the possibility of moisture rolling back into the air conditioning unit. Water inside your AC unit can cause damage.
---
---
Change & Clean the Filters Frequently
As with any room air conditioner or HVAC system, your portable air conditioning unit has at least one filter that should be either regularly cleaned or replaced.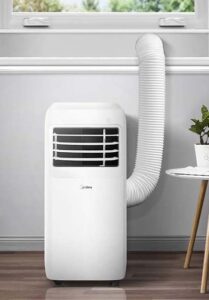 Portable Air Conditioner Unit
Depending on what type of AC unit you have, you may find a pre-filter located on the back of the unit. You should clean this at least once a month with a soft cloth. Do not use soap or any detergents, as those can leave a film and actually increase the risk of a clog.
The reason you need to keep the filters fresh is because as dirt or dust accumulates, it can mix with the moisture inside the unit to form a layer on the coils. This layer will keep the coil from transferring heat from the room to the great outdoors. In essence, it means your unit will overheat and eventually start to malfunction.
There may also be a second filter on your portable air conditioner known as a carbon filter, which serves to neutralize odors. This filter should be changed at least twice a year — if not more frequently — depending on the manufacturer's recommendation.
---
How to Store Your Portable Air Conditioner
Unless you plan on running your AC unit year-round, you will need to properly put it to bed during the months you will not be using it. Before you store it away until next season, it is recommended that for homeowners to do the following:
Drain the AC unit of any moisture that has collected inside.
Put the unit in "fan only" mode on high speed for a few hours to ensure everything inside is completely dry.
Use plastic sheeting to cover the unit, which will protect it from dust and other debris.
Store your portable air conditioner in a cool, dry place.
Where you choose to store your portable air conditioner is important. If possible, choose an area in your home that is temperature controlled. The last thing you want is for the device to be sitting in extreme temperatures for an extended period of time. If exposed to the elements for too long, you may find that your portable AC unit won't work properly when you pull it out of storage.
---
Final Thoughts
By following just a few maintenance tips, you can ensure your portable air conditioner will serve you well for years to come. It's simple, really. Just make sure you keep it in a place free of dust and debris that could clog up working parts. Clean or change the filters regularly. And, if you're done using it for the season, be sure to store it correctly so it will be ready to go when the mercury rises again.
---