If you live in a cold climate, you probably know all too well the dilemma of frozen pipes. If you're new to cold climates or, perhaps, new to owning a house, it's wise to learn all you can about what you should do in the event that your pipes freeze during a cold winter chill.
To help you prepare and protect your home, let's take a look at why pipes freeze, as well as some simple prevention tips that every homeowner should know as the mercury starts to drop.
Why Do Pipes Freeze?
The reason behind why pipes freeze is likely self-explanatory. When the temperature outside your home drops too low, the water inside the pipes will freeze.
This typically starts with any spigots, faucets or pipes that are exposed to the elements. However, it can have an effect on areas in your home this is not heated or just poorly insulated. Upon hitting this frozen state, the water inside your pipes and spigots will expand, which may cause it to burst. This is where things can go really bad for homeowners, possibly leading to a whole host of other problems.
How to Prevent Frozen Pipes
There are many preventative measures that a homeowner can take to protect their home from a frozen pipe. There's no single "best" way to prevent your pipes from freezing.
Instead, familiarize yourself with the tips below and use them in conjunction with each other. This will go a long way to make sure your pipes don't freeze and, hopefully, prevent them from bursting and flooding your home.
1. Add Insulation to Exposed Pipes & Fixtures
By far, this is the easiest thing that a homeowner can do to protect their pipes. By adding a layer of insulation to all plumbing fixtures that are exposed, especially pipes and spigots, you can help prevent them from becoming too cold.
Most homeowners will initially think of the pipes and faucets on the exterior of their home. But, don't forget about any pipes that are exposed in areas of your home that are not heated or well-insulated. This could be your garage or a basement, but also any of the forgotten crawl spaces. All of the pipes in these areas should be insulated, too.
There are lots of types of insulation that can help you here, all of which are available at home improvement stores or online.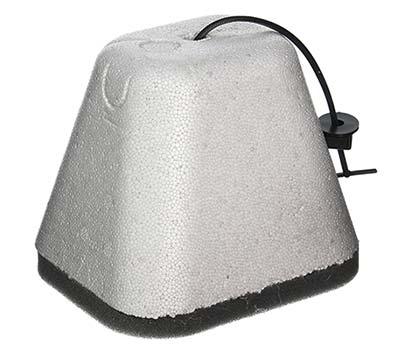 Faucet Covers
These are a great way to protect outdoor spigots or faucets. Typically, a faucet cover is only a couple of bucks and they're incredibly easy to install. If possible, opt for the faucet covers that have a hard plastic shell, as these are a bit more durable and will last for many seasons.
Foam Pipe Insulation
Resembling the colorful "noodles" you kids playing with in a swimming pool, these are pieces of foam that are designed to wrap completely around and insulate all exposed pipes. Extremely affordable and easy to install. The best part about this type of insulation, is that it goes far beyond preventing pipes from freezing, it will actually help cut your energy costs and prevent those same pipes from condensation when the temperature goes back up in the summer.
Pipe Wrap Tape
Very similar to the foam insulation above, but instead of a giant noodle of foam, this type of pipe insulation looks more like a roll of duct tape. You'll apply it much like you would tape, too. Simply wrap it around any exposed areas and it will add a layer of thermal insulation to prevent it from freezing. Unfortunately, pipe wrap tape is going to be one of the more expensive options.
DIY Insulation
Sometimes, a winter storm will creep up on you and leave you with little to no time to get the necessary supplies or insulation. If you find yourself in this situation, don't worry, there are still some easy and free insulation options that will protect your pipes.
Perhaps, the oldest method of protecting your pipes. Simply take some old rags or towels, and wrap them around any exposed pipes, spigots or other areas that you think is susceptible to freezing.
Make sure it's wrapped up tight and won't come loose during a storm. The best option is to wrap duct tape around the towel. Another option is to use another towel, tying it into a knot around the "insulating" layer to ensure it stays in place.
2. Use Heat Tape to Regulate Temperature
The name "heating tape" can be a bit of a misnomer. While there are different types available, some of which do have adhesive properties, most homeowners will think of this as a type of extension cord or cable.
The heating cable is then strategically wrapped around any exposed pipes. Once installed, simply plug in and turn on. The cord will emit a small amount of heat that will help regulate the temperature around the pipe, thus preventing from freezing.
When used properly, this can be a great way to make sure your pipes never freeze. Unfortunately, they are much more expensive then other types of pipe insulation. Additionally, you also need to be mindful of the type of heating cable you use, as well as the material your pipes are made of.
3. Protective Measures Inside Your Home
For pipes and spigots located on the exterior of your, insulation is about the most you can do to protect them from freezing. However, when it comes to the inside of your home, there are many things that a homeowner can do.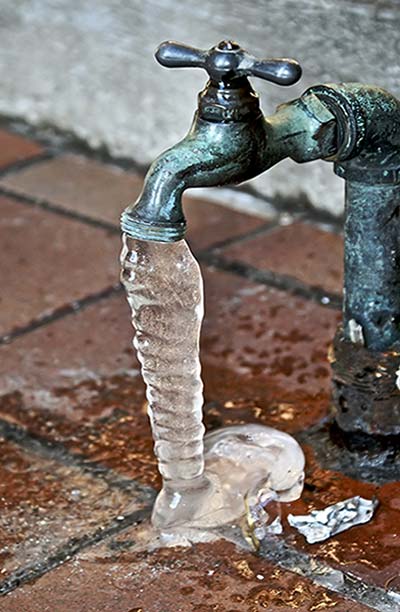 Maintain Temperature:

The number one thing you should do is regulate and maintain a steady temperature inside your home. Try to keep it above 60°F at all times, even if you're not home at the time.

Heat & Insulate Exposed Areas:

If you have a basement, garage or crawl space with an exposed water line, then you may want to consider using a small heater in that area to help prevent the temperature from dropping to a level that will cause water inside to freeze. Of course, a heater should only be used if it is deemed safe by the homeowner. Insulating pipes will be the best prevention, but a heater may also help. The very least you can do, at least for a garage, is keep the door closed and insulated.

Weather Sealing Doors & Windows:

This is something that every homeowner should consider, just for the energy savings alone. No matter how extreme the temperature is outside, this is one easy DIY project that will help you regulate the temperature inside. It'll help prevent pipes from freezing in the cold winter, as well as help your air conditioner keep the room cool in the hot summer.

Heat Circulation Within Cabinetry:

Inside your home, it's not uncommon for pipes to be exposed inside the cabinetry. They may be hard to spot, but there they are. Look inside your cabinets and if you see pipes, leave those doors open to ensure that the heat in the room can circulate to those areas.
4. Shut-Off Water Supply & Drain
Your pipes won't burst if there's no water inside to expand. Therefore, it would be wise to shut-off the water supply for any pipes that lead to an exterior spigot, as well as drain all the water out.
This would include:
Swimming Pools
Garden Hoses
If the weather hits extreme temperatures, then you may also want to drain the water out of any appliances that have a water supply, such as your hot water heater or fridge. This is especially true if they are located in a basement or garage.
5. Let Your Faucet Drip
The most popular way to prevent pipes from freezing, is to allow the faucets in your home to slowly drip water. Sure, it's a gross waste of water, but it works. This is much better than dealing with a burst pipe.
The slow drip works because it helps moderate the water pressure inside your pipes. This allows the water to keep flowing and pressure lowered, all of which makes it more difficult to freeze.
6. Wash Your Dishes & Clothes (While You Sleep)
Most dishwashers and washing machines have an option that allow you to delay the wash-cycle for a few hours. If you have one of these, schedule a load to start in the middle of the night. This is when the temperatures will be at their lowest, and when your pipes have the highest risk of freezing.
This follows the same principles of a dripping faucet, but instead, you're putting some of the appliances around your home to work (and not completely wasting water).
7. Use Ice Maker to Make Ice
While it sounds counter-intuitive to make ice when the weather is creating ice everywhere else, this little trick works quite well.
Your refrigerator makes ice when it detects that it's needed. So, empty all the ice out of it. This will cause your fridge to make more ice, thus using more water and helping relieve the pressure that may lead to your pipes freezing.
Keep A Close Eye On Your Pipes
Knowing how to prevent frozen pipes in your home and yard is only part of the battle. If you're in the home when the cold weather strikes, it's wise to also keep a close eye on your plumbing.
This includes all faucets inside and outside of your home. Turn them on occasionally, inspecting that the pressure of water is working properly. This should be the first thing you do in the morning, and the last thing you do before you go to sleep.
Visually inspect occasionally to ensure that the preventive measures listed above are working. You want to be able to catch frozen pipes as soon as possible, so you can take the necessary steps to thaw them.