All around the United States, homeowners rely on their central air conditioner to keep their home cool during the hot summer months. While a central AC is one of the best options to keep you and your family cool, more and more homeowners are turning to a more versatile and convenient cooling appliance — the portable air conditioner.
These convenient, yet underrated, cooling appliances can do much more than simply provide cold air throughout your home. This type of "room" air conditioner is designed with many benefits in mind. Below, are five reasons why every homeowner would benefit from using a portable air conditioner in their home.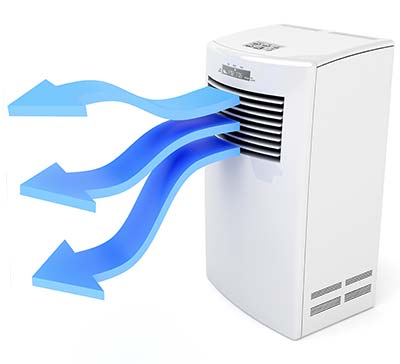 1. Enhanced Temperature Control
If you are the type of person that always feels warmer than everyone else in your home or office, then you may benefit from the use of your a portable air conditioning unit.
Portable air conditioners provide you the freedom to cool a area or room without bothering your coworkers or roommates. As long as the interior space is enclosed, you could benefit from a portable air conditioner by simply cooling that one room. This will keep you in a comfortable temperature, without bothering anyone else nearby.
---
---
2. Saves You Money (And Energy Use)
For homeowners that live in warmer climates, using a room air conditioner to help cool their home may be a wise decision when it comes to lowering their utility bills.
Regardless of whether you go with a portable or window air conditioner, these smaller AC units can help homeowners bring the temperature down to a comfortable level in a small area or room that they spend the most time within. Running your central air conditioner at full power all the time tends to result in high energy bills, but a portable air conditioner can give your central AC unit a bit of a break. This not only extends the life of your central air conditioner, but a portable air conditioner can save you money.
This is also particularly useful if you happen to have non-standard windows that won't fit a general window unit. Most portable A/C units can be installed in all sorts of odd-shaped windows, or even within a ceiling vent. Portable AC units also help save you money by only cooling the area of your home or office that you want to be cooled, which means less wasted energy in unoccupied spaces.
3. Improves Indoor Air Quality
Portable air conditioners do much more than just cool the air in a room. Some units have the ability to generate heat, making them a helpful appliance for year-round necessity use. Other AC units can utilize their built-in air filters to help improve your indoor air quality.
Popular Features & Functionality
Heater
Air purifier
Humidifier
Dehumidifier
You have lots of features available. Be sure to research all of the options provided with your preferred model in order to assure that is meets all of your unique needs.
---
---
4. Portability on the Road & Sea
For homeowners that enjoy hitting the road and traveling — whether by road or sea — a portable air conditioner is perfect for on-the-go. If you're traveling in an RV, a portable air conditioner can help keep you cool during long road-trips. These also work great in cabins, vacation homes, and boats.
Simply remove your portable air conditioner from your home (or storage) and take it with you. Portability provides convenience when you need it most.
5. Keep Your Office & Tech Cool
The emergence of the internet and the ability to house processing power into smaller units has made it easier to run advanced businesses right from your own home. This frequently includes the ability to store servers and provide hosting services without leasing office or warehouse space.
If you have servers in your closet, garage, or anywhere else inside your home, then you may need a way to keep these servers cool.
Portable air conditioners can be used as a main cooling option or even as a supplement to your central air conditioning system to keep your equipment at a suitable temperature. These A/C units helps to prevent overheating and hot spots, which can lead to premature equipment failure as well as many other unexpected costs.
---
What's the Best Air Conditioner for Your Home?
One way to get the most benefits from your portable air conditioning unit is to make sure you have a strong understanding of the amount of power your space requires to cool. To accomplish this, you just need to know the square footage of the room, as well as the BTU or ASHRAE that your AC unit produces.
For example, if you want to add a portable air conditioner into a typical, average-sized bedroom, then you won't need a unit with industrial capabilities. However, if you plan on putting an air conditioner into a larger living room or game room, then you may need a larger unit to ensure that it's capable of cooling the space.
How to Calculate BTU & Room Size
In order to ensure that you are utilizing the correct size, it is necessary that you calculate the BTUs required to achieve the cooling level you prefer.
To do this, you will need to calculate the size of the room you are planning to cool by multiplying the length by the width of the room. This will give you the square footage of the room. Once you have the size of the room, you should have a pretty good idea on what size unit you will need.
Cooling Capacity Chart by Room Size
The below chart is a rough estimation on how much cooling capacity you need for your room size.
< 225 sq/ft — 8,000 to 10,000 BTU's
225-300 sq/ft — 10,000 to 12,000 BTU's
300-425 sq/ft — 12,000 to 14,000 BTU's
> 425 sq/ft — 14,000 BTU's (or larger)
Enjoy Your Air Conditioner in a Variety of Ways
Although they have many different uses, portable air conditioners often get overlooked. Investing in a portable AC unit might just be the smartest financial move you can make as we move into these warmer months, and as heaters for your home when the weather beings to cools down.
---