Affordable and energy efficient, swamp coolers are a great way to drop the temperature in your home, without spending the money on a new air conditioner. They don't use any chemicals or refrigerants, all it needs is water to help you feel cooler.
While this all may sound great, evaporative air coolers are not the right fit for everyone or every home. Only some homeowners will benefit from using a swamp cooler inside their home, and even then, it is hardly ever a suitable alternative to other types of air conditioners.
Frequently Asked Questions
To help you determine whether this is the right fit for you, we've compiled the most common questions that homeowners have when it comes to this type of air cooler.
What Is A Swamp Cooler?
A swamp cooler is an appliance that uses the evaporation of water to help cool the air stream and add humidity back into the air. They are particularly useful for anyone living in arid climates.
Other names for these devices include:
Evaporative coolers
Wet air coolers
Desert coolers
---
How Does A Swamp Cooler Work?
This type of air cooler utilizes the principles of evaporative cooling.
A swamp cooler is really just a simple contraption that uses a fan to suck in hot air, typically from the outdoors, then pushing the air over a number of wet "cooling" pads.
As the hot air passes over these pads, the liquid water turns into vapor, which is then pushed out of the unit, and into the air inside your home. Once the vapor starts to circulate into the air, the added moisture will extract the heat from the air, helping the ambient temperature feel cooler.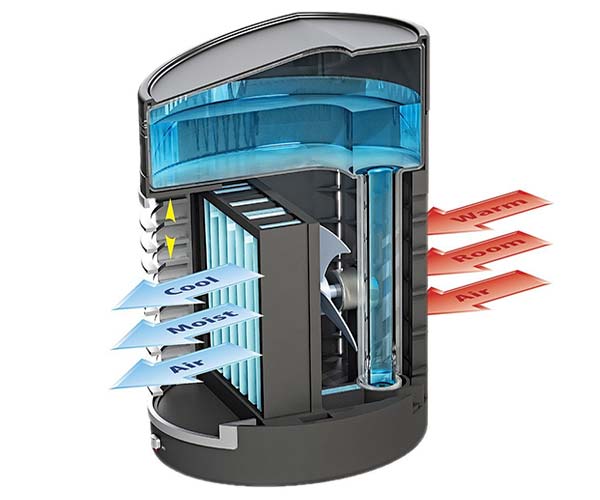 The dry air temperature cools during the evaporation process. This is the same method that the human body uses to cool itself down. When we get hot we sweat and the sweat evaporates which lowers our body's temperature.
Because of this it's important to use only in hot, dry climates. For optimal performance, only homeowners that have humidity levels below 50% should use a swamp cooler inside their home.
Does It Lower the Ambient Temperature?
A swamp cooler will help make the temperature feel approximately 5°-15° lower in the area within close proximity to where it is located. However, they will not lower the overall ambient temperature in the room.
This is a common misconception and important for homeowners to understand prior to purchasing an evaporative cooler. Unlike an AC unit, you will not feel a significant drop in temperature, nor will you be able to control the temperature with any sort of precision.
---
What's the Difference Between a Swamp Cooler & Air Conditioner?
The most notable difference is the method in which they each cool the air that is being circulated within the room.
An air cooler uses water, cooling pads and an internal fan to increase the humidity within the room, whereas an air conditioner uses a compressor and refrigerants that can rapidly cool the air.
While they may have similarities and are both intended to cool a room, it's very important to understand that they each utilize a distinct cooling method and are not a one-for-one replacement.
Portable Cooling Confusion
The similarities are noticeably obvious when it comes to portable air conditioners. Because of how similar they are in shape, size and design, not to mention they each have "portable" in their name, it's very common for homeowners to confuse these units with portable evaporative coolers.
Unfortunately, they operate very differently, and this has left plenty of homeowners both confused and disappointed with their purchase.
What's the Difference Between an Evaporative Cooler & Air Fan?
A fan uses rotating blades to create a current of air but has no real effect on the temperature or humidity within the room. All it does is circulate the air around you. It may feel cooler when you first feel the air circulating around you, but this is due to the "wind chill effect" that it creates and will be temporary, at best.
Whereas, an evaporative cooler utilizes an internal fan to help circulate air, but also goes one step further by using a set of wet cooling pads to help recreate the evaporation process by adding a bit of moisture to the air.
---
What is the Best Environment to Use a Swamp Cooler?
Due to the evaporative nature of how they operate, swamp coolers are best used in hot, dry climates where the temperature is high, and the humidity levels are low.
---
Can I Use One If I Live In A Humid Climate?
This is not recommended. If your home is located in an area with a humid climate, then it would be unwise to use a swamp cooler inside your home.
Not only will they be ineffective at cooling, but they will just add unnecessary amounts of moisture to the air. As a result, the excessive humidity levels inside your home will cause more issues and lead to poor indoor air quality.
If you live a humid climate, the better choice would be to use an air conditioner for cooling the interior of your home. However, depending on your location and the fluctuating temperature, there may be certain times in the day that you could use a swamp cooler to help supplement your air conditioner.
Will a Swamp Cooler Help Cool a Garage or Workshop?
Yes. An evaporative air cooler can be a great choice for cooling your garage or workshop. Due to the large doors and poor insulation, you are less-likely to experience the negative effects of too much humidity.
Ironically, it's because of these same reasons that garages often don't have an air conditioner. As a result, a swamp cooler could be the ideal choice to provide cooler airflow, especially on those hot summer days.
---
What Size Swamp Cooler Do I Need?
Once you've made the decision to purchase an air cooler, you need to determine the right size unit. Air coolers are measured by cubic feet per minute (CFM). This is the measurement used to determine the amount of air that will be circulated each minute.
How to Calculate CFM:
Figuring out the CFM is pretty easy and shouldn't take more than a couple of minutes. Here's the steps you will take.
Determine the square footage of the room.
Multiply the room's square footage by the height of the ceilings.
Then divide that number by 2.
This is your suggested CFM for that room.
For Example:
To illustrate how this works, we'll be calculating the amount of CFM needed to cool a room with 150 square feet and 9ft. tall ceilings.
Room Sq. Ft — 150 square feet
Ceiling Height — 9 ft
150 x 9 = 1350 / 2 = 675 CFM
In the example above, I would need to find a unit that has a minimum of 675 CFM.
If the CFM falls in between units or you have an odd-shaped room with lots of corners, you would want to purchase an air cooler that is slightly larger. If it is too small will have to worker harder to keep the area cool and waste energy doing so.
---
How Do You Clean A Swamp Cooler?
A swamp cooler will follow a similar cleaning process as a humidifier. Any part of the device that gets wet, needs to be cleaned and sanitized on a regular basis.
To ensure proper cooling and the prevention of mold or mildew, the tank and cooling pads should be cleaned with soap and water at least once every 7-10 days. Allow all parts to dry thoroughly.
This will prevent dust, dirt, and mildew from building up. Cleaning the unit regularly is especially important if you are using the air cooler for long periods of time.
External – Cleaning the outside of the air cooler can be done periodically by simply wiping it down with a damp cloth.
How Often Do You Refill the Tank?
This depends on many factors, ranging from how you are using the device to the brand/model itself. Generally speaking, you should not have to refill the tank for at least 4-6 hours.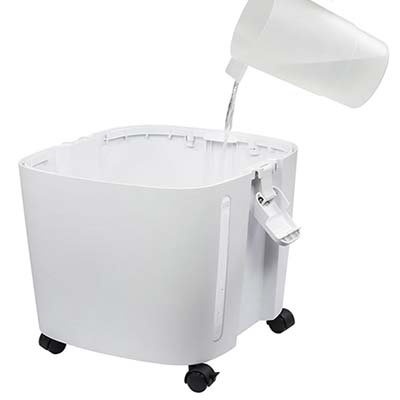 Below, are a few considerations that will play a role in how long your tank will last before it needs to be refilled.
How big is the device?
How / where often are you using it?
What is the temperature of the room / surrounding area?
What is the relative humidity of the room / surrounding area?
What is the insulation like in the room it is being used in?
Depending on how you answered the above questions, you to help you determine whether or not you can use your swamp cooler in a more efficient manner.
---
How Often Do You Replace the Cooling Pads?
This depends on how you are using and caring for the device. If you clean your swamp cooler on a regular basis, then your cooling pads will last for quite a while.
As the summer season sets in and you prepare to use the evaporative cooler for the first time, inspect the pads to make sure that they have no damage. If you notice any cracks, then they will need to be replaced.
---
Do you have a question about evaporative air coolers that you didn't see listed here? If so, leave it down in the comments below.