As a homeowner, it's critical for you to know and understand the dangers that mold presents to your home. It is a common concern for homeowners and can cause unseen damage to your home and your health.
Mold is a fungus that has the potential to grow within any location that is damp or excessively moist. If these areas are also warm, poorly ventilated, or have no light, then mold is more likely to thrive and cause issues.
At first, mold in your house will only create a musty or unpleasant odor, but as time goes on, mold can lead to some pretty serious damage. In fact, according to the CDC, exposure to mold has the potential to provoke allergies and asthma attacks for people who are prone to them.
In this article, you'll learn more about how to get rid of mold from your house, as well as how you can spot it and prevent it from growing in the first place. Ask any homeowner, mold is not something you want in your home.
1. Control Humidity & Moisture
Mildew is a thin black or white substance that you typically find growing on grout in a bathroom. It flourishes in warm, humid areas, so the first step in removing and preventing it is to clean the places in a home where it's mostly likely to show up, and keep them dry.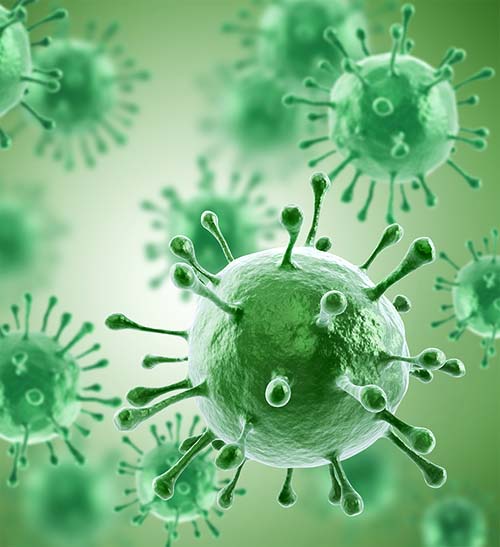 Be sure to regularly clean your bathroom and kitchen, stretch out wet shower curtains and dry damp clothing quickly.
If your basement is often damp, there may be crevices in the walls letting moisture in, so replace cracked mortar and make sure you have sufficient outside drainage.
An air conditioner can help by taking in warm air, which holds more moisture, and circulating it back out as cool, dry air. A humidstat or dehumidifier is also useful for reducing humidity.
On days when the air outside is dry, open up your windows and use electric fans to let the outside air circulate into your home and carry the moisture out.
2. Use Cleaning Solutions & Products
There are a number of cleaning solutions you can use, all of which are relatively inexpensive and easy to find.
Bleach
Bleach is very effective when used on moldy surfaces. Mix 1 cup of bleach with 1 gallon of water, then use either a spray bottle or a bucket and sponge to clean the affected area.
If you want to prevent growth, don't wipe the area afterward. Note that bleach has some drawbacks, the foremost being that it's useless on porous materials like wood and drywall. It also gives off harsh fumes, and mixing chlorine bleach with ammonia or certain other household cleaners is incredibly dangerous as it produces toxic gas.
Note: Never mix bleach with other chemicals!
Vinegar
Vinegar isn't quite as effective as bleach, but it's safe and doesn't give off harsh fumes. Pour undiluted white vinegar or apple cider vinegar into a spray bottle, spray the affected area, let it sit for an hour, then wipe clean.
If you want to use it to prevent growth, simply don't wipe afterward, and spray again every few days. Use it only on non-porous surfaces.
Borax
Borax is dangerous if swallowed, but it's otherwise safe and doesn't give off dangerous fumes. Create a mixture of 1 cup of borax for every 1 gallon of water, then clean with a scrubbing brush. Once again, only use it on non-porous surfaces, and you can use it to prevent growth by not wiping it off afterward.
Ammonia
Ammonia is similar to bleach in that it can't be used on porous surfaces, and also that it's a dangerous chemical. Make sure that you only use clear ammonia. Create a 50/50 mix of water and clear ammonia, and spray the affected surface. Let it sit for a few hours, then wipe and rinse.
Baking Soda
Baking soda is both mild and safe, and it also acts as a deodorizer. What's more, unlike the other solutions, baking soda can be used on porous surfaces.
Add 2 tablespoons of baking soda to 8 ounces of water and mix thoroughly. Spray the affected area, scrub with a sponge or brush, then rinse. Follow this by spraying a second time, but don't rinse afterward.
---
3. Cut Out & Remove Large Infestations
Mold can grow behind the walls and other unseen places in a house, leaving homeowners unaware until they smell it or notice stains on the wall. At that point, it has to be literally cut out of carpets and drywall.
How to Remove Moldy Drywall & Carpets
If you choose to do this on your own, you'll want to wear old clothing and shoes along with goggles, gloves and N-95 respirator.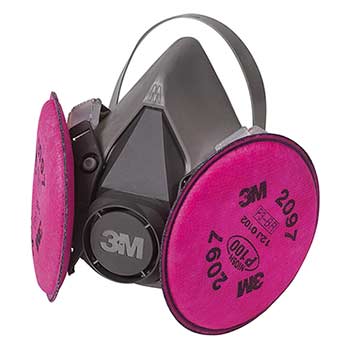 N-95 Respirator For Mold Removal from
3M
Prep & Set-Up
Set a box fan in the window of the room you're working on. Next, make sure you tape plywood or cardboard around the window openings so spores expelled by the fan can't get back in. Turn off your air conditioner and/or furnace, and then seal off the airflow within the room by covering the vents and doorways with plastic sheeting and duct tape.
Removing Moldy Carpets
Use a utility knife to cut moldy carpets into 6′ x 8′ sections, and mist the surfaces with a pump sprayer to control spores. Roll up the sections and wrap them in thick plastic trash bags.
Removing Moldy Drywall
Turn off power to the room, and probe stained or soft spots on the wall with a screwdriver to find the infestation and locate any wiring, removing baseboards and trim if necessary. Use a drywall saw or utility knife to cut out the infested drywall and any moldy insulation behind it. Mist with the pump sprayer to control spores, then double-bag the material in heavy plastic bags and tie the bags off.
Clean-Up
Vacuum up the debris with a shop-vac with an extra-long hose, so you can keep the shop vac outside to keep spores from spreading. Use a brush to scrub stained surfaces inside the walls with a water and bleach mixture, and then wipe the areas, but don't rinse them. Dry any trim you washed in direct sunlight, and use fans and dehumidifiers to dry the room for at least three days.
When you've eliminated it all, seal the wood with a pigmented shellac or oil-based primer. Put in new insulation and drywall, replace the trim, and repaint using paint that contains mildewcide.
4. Hire Mold Remediation Professionals
If you have a persistent infestation, you may need to hire a mold remediation specialist.
Do your homework to find one who is reputable. The specialist will thoroughly inspect your home to determine the extent of the infestation, and afterward he or she will let you know if you can take care of the problem yourself, or if you'll need to hire professionals to handle it.
Make sure the specialist gives you a written report. Note that, to avoid conflicts of interest, the specialist who inspects your home should work independently from the company you hire to clean out the infestation.