Gel fireplaces are ideal for individuals who do not have a fireplace in their home, or for those who wish to have a more efficient and environmentally friendly option. To help you decide if it's the right type of fireplace for you and your home, we've listed out five of the most common questions that homeowners have about gel fireplaces.
What is a Gel Fireplace?
As the name implies, a gel fireplace is a specific type of fireplace that uses a specialty gel as its source of fuel.
This may refer to an existing fireplace that has been modified for gel use, or a fireplace that has been specifically built and installed with gel use in mind. Either way, the use of a gel fireplace allows homeowners to have a method at their disposal in which they can have an indoor fire even without the normal ventilation required by a traditional fireplace.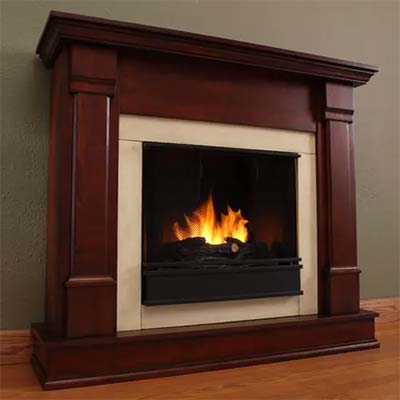 1. How Does a Gel Fireplace Work?
A gel fireplace is a very clean option in terms of how it functions. The gel itself burns very clean and does not require the use of a ventilation system, nor does it give off any unpleasant odors.
The fireplace that is used for gel usually includes several ceramic logs or other materials to mimic the look of a traditional fireplace, just as many fireplace inserts do. The gel can then be placed in the rear of the fireplace for combustion. The gel comes in canisters, and as many as three of these canisters can be placed in the fireplace at a time, allowing users to have a relatively long-lasting fire.
Gel is not the most effective option in terms of its heat-generating capabilities as it produces about 3,000 BTUs per hour, per can. Given the fact that it is most commonly used in smaller living spaces, the amount of heat it gives off is typically ideal for its intended function.
However, if you want to keep a larger area warm, a gel fireplace may not be the option for you. Each can is estimated to last for about two to three hours, so when used in conjunction with other cans, its endurance potential is solid.
2. How Do I Install a Gel Fireplace?
The installation of a gel fireplace is relatively simple. These fireplaces often come in kits so that they can be assembled inside of the home in which they will be used. The kits are designed in an intuitive manner since the manufacturers are aware of the fact that the kits will not be assembled by professionals.
The fireplaces typically make use of a metal shell. Inside the metal shell should include ceramic logs or other materials that replicate the appearance of a traditional fireplace. This metal shell is then covered by a layer of base wood, and then another layer of finer wood.
In most cases, mahogany or enamel is used. In the case of outdoor gel fireplaces, the metallic or ceramic shell is made to be more durable in order to protect from the elements.
3. Can I Convert an Existing Fireplace to Gel?
An existing fireplace in your home can be easily converted to a gel fireplace as well. First, the gas and ventilation lines must be closed. This will help improve the efficiency of the home, as fireplace ventilation is often a major source of heat loss, particularly during the cold winter months.
Once the gas and ventilation lines have been closed, the ceramic wood or other materials can be placed in the existing fireplace. The gel canisters can then be arranged behind the ceramic wood to give the appearance that the wood is burning in the existing fireplace.
4. What is the Fuel Made Of?
The gel that is made for use in this type of fireplace is typically made of isopropyl alcohol or some other alcohol substance. The substance is treated in order to make it as environmentally-friendly as possible, while also ensuring that it will burn for as long as possible.
There are several varieties of gel available, with thicker gels resulting in longer-lasting flames, and thinner gels producing hotter and brighter flames. As these gels will typically be used indoors, they must adhere to certain standards, being cleared by OSHA and the EPA before they are allowed to be mass-produced.
5. Is A Gel Fireplace Easy to Use?
Every aspect of the gel fireplace, from installation to use, is incredibly easy. Using the fireplace only requires the insertion of a gel canister to have a fire going in seconds. This ease of use coupled with the fact that these types of fireplaces can be used in any home without modification, has made gel fireplaces a very popular option for homeowners. An added benefit is the fact that the fuel that is used is safe for use without ventilation, and is also environmentally sound.