The majority of homeowners in the United States get their drinking water from public water treatment facilities, and we tend to accept without question that the water that flows from our taps is clean and safe to drink.
But is it?
Americans use thousands of different chemicals every day. Unbeknownst to us, many of these substances ends up in our lakes, rivers and aquifers. These may include pesticides, pharmaceuticals, solvents, weed killers, cleaning agents, you name it — all of these contaminants eventually finds its way into our water supply.
How Does Our Water Become Contaminated?
The contaminants that degrade the water quality come from a number of sources. Some of it gets there from people dumping it down their toilets, while other chemicals show up thanks to runoff from farms or mining, leaching from landfills, or improper storage and disposal at manufacturing plants. In addition to the chemicals, many of our waterways are filled with harmful bacteria, such as E. coli.
Some of these contaminants get removed during sewage treatment procedures, but others find their way into the waterways around our homes. It's up to our water treatment facilities to properly process the water, removing all toxins to make it safe for us to drink before piping it to our homes.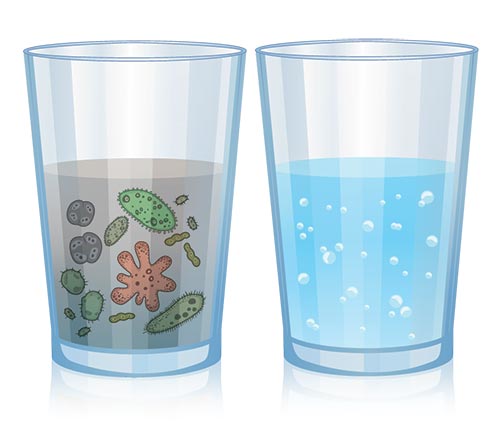 Is Your Drinking Water Safe?
The Environmental Protection Agency regulates a number of harmful substances, such as uranium, lead, and arsenic. For each of these, the EPA sets a Maximum Contaminant Level indicating at what concentration these chemicals and minerals can exist in our drinking water before it is considered unsafe to drink.
Each summer, the EPA issues a report for most municipal water systems in the country. These Consumer Confidence Reports (CCR) can be searched on the EPA's website.
In the CCR, at minimum you can expect to find the following information:
The source of your drinking water.
A discussion of the general risks of contamination.
A list of regulated contaminants and their levels in the water at the time of testing.
Possible health risks from these contaminants found in excess of EPA standards.
What your local water treatment facility is doing to correct any problems.
The Downside of the EPA's Annual Water Quality Report
While these reports are a great resource that provide a high-level overview of what's in the pipes in your home, they cannot reliably provide a complete picture of your water quality.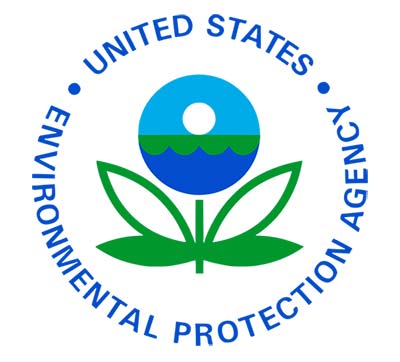 For the reports, water is tested only once or twice a year and contaminant levels are averaged out across 12 months. Contamination can occur outside of testing periods, or there can be occasional spikes in certain contaminants that exceed EPA regulations, and these issues may not be captured in the report. Furthermore, it's possible for your water to become contaminated after it leaves the treatment facility.
Contaminants Not Measured by the EPA
As another point of concern, just a few of the chemicals that can be found in our drinking water are measured or regulated by the EPA. Independent water testing laboratories confirm a wide variety of contaminants that may be found in our water supplies. In water samples taken from across the country, these labs have discovered measurable quantities of contaminants as varied as antidepressant medications, artificial hormones and gasoline additives.
The EPA doesn't regulate most of these chemicals in our drinking water. Although most will only occur in trace amounts, there's no way to know what the chemical cocktail might be doing to our health. Most of these unmeasured contaminants have no taste or color and pass through our water and into our bodies undetected. While many of these substances may be harmless in and of themselves, there are few studies to suggest what these different chemicals might do in combination with others.
---
When Should You Get Your Water Tested?
The EPA recommends you test your water annually to get a sense for what you may be drinking and if there are changes over time. In addition to yearly water tests, some of the things that should prompt you to test your tap water immediately include: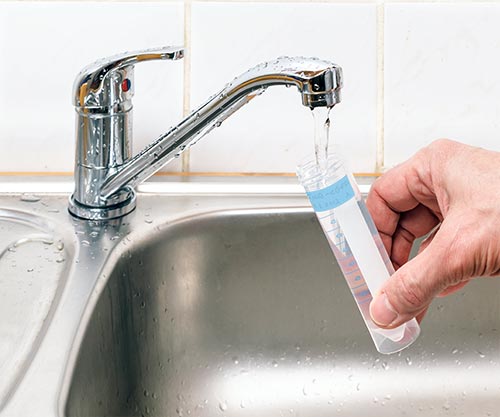 Recurring stomach or digestive issues: This may be a sign of bacterial contamination.
Cloudy, frothy, discolored or smelly water: This can be caused by a number of contaminants.
Living in an older home: Aging plumbing may leach copper and lead into the drinking water.
Red or rust-colored stains on your sink or clothing: This is a sign that your water has high levels of iron or other minerals.
Nearby coal, gas or agricultural activities, especially fracking: These industrial areas may lead to pesticides, herbicides or solvents leaching into your water.
Living close to landfills, gas stations, industrial plants, dry cleaners: Many substances can leach into the ground and, possibly, contaminate local water supplies.
For a more comprehensive list, the EPA offers this handy chart (PDF) that can help you determine when you might want to test your water, with symptoms that can occur with certain contaminants.
---
How to Find Out What's in Your Water
If you're experiencing any signs that indicate something could be in your water, or if you want to test your water for your own peace of mind, you have a few options to choose from. The cost and accuracy will vary, so it's important to do some research on your options prior to investing.
Sending Samples to a Testing Lab
There are many professional water testing labs that can provide extensive testing on water samples you provide. They send you a kit and instructions on how to collect water samples, and then you send the samples to the lab for evaluation.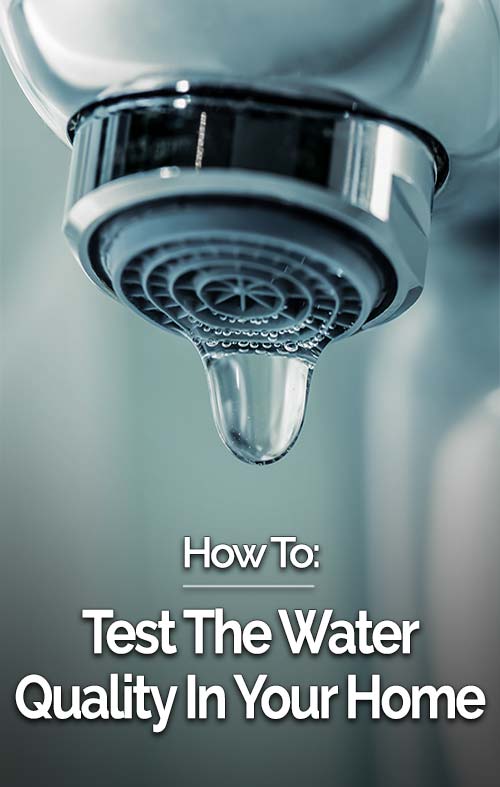 Generally you can choose which kinds of tests these labs will perform, from testing for common contaminants to specialized tests for radon, uranium or other substances depending on your location and personal concerns.
These labs provide tests for tap water from both water from city treatment plants and well water, so they're a good option for the majority of homeowners. The least expensive tests run about $50 and the most extensive ones can cost over $400, so it's a good idea to know what you're looking for before purchasing a test kit.
Is a DIY Water Testing Kit Worth the Cost?
Those costs may seem exorbitant, and you do have other options. There are inexpensive home testing kits you can purchase from home improvement stores and online merchants. These kits purport to test for bacteria, lead, pesticides, chlorine, nitrates and nitrites, and can also tell you the hardness and pH of your water.
These kits may seem like a great way to check your water quality and identify potential problems, but they cannot test for all contaminants, including fluoride and glyphosate. They are also far less reliable than laboratory tests, so the results should be taken with a grain of salt.
Do These Types of Kits Even Work?
Good Housekeeping performed a review of different do-it-yourself home water testing kits. Their results showed that most of the common tests inaccurately measured levels of certain contaminants, while entirely missing others. Even worse, many of these tests have given false positives that may cause you to take expensive preventative action when no such need exists.
So, what should you do?
If you're just curious about your water but have no serious concerns, trying out a DIY kit may be a good place to start. However, if you have any concerns about your water quality, or you have anyone with health issues, small children, or elderly family members, you should probably consider a professional testing lab.
Just be careful: There are some labs out there that offer "free" water testing, but those usually are fronts for companies that want to try to sell you expensive filtration solutions you don't need. You can find some of these "free" options available near many Home Depot locations.
If you have evidence of contaminants in your water, you can report it to the EPA's Safe Drinking Water Hotline, 1-800-426-4791.
---
How Can You Remove Contaminants?
For some contaminants, it's easy to remove them with a filter that attaches directly to your faucet or by using a water pitcher filter.
These filters are inexpensive and easy to maintain, using activated charcoal as their primary filtration medium. They are perfect for removing chlorine (commonly added to disinfect municipal water). Depending on the manufacturer and freshness of the filter, they can also remove trace amounts of minerals such as zinc, lead, copper, and asbestos, as well as some bacteria or other biological contaminants.
Removing Lead from Drinking Water
Because of the significant health problems associated with consuming any levels of lead, if you're concerned about the lead content in your water, be sure to do your homework. Most pitchers and faucet filters are not certified to remove lead from drinking water.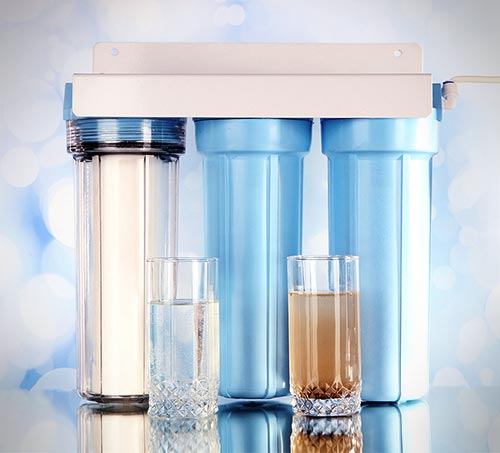 Furthermore, a number of other contaminants cannot be removed with inexpensive filtration solutions. For safe removal of lead, pesticides, glyphosate, fluoride, and many other contaminants, a reverse osmosis filter might be the best solution. For many homeowners, the best choice will be a reverse osmosis filtration system that is installed directly under the kitchen sink, but you can also install a "whole-house" unit that works for the water in the entire home.
What is Reverse Osmosis?
Reverse osmosis is the process many bottlers use to produce 'purified' water, and this type of filtration will remove the majority of contaminants from your water. The downsides of these units include a high initial setup cost and a higher consumption of water as part of the filtration, which will increase utility bills.
Hopefully now that you're armed with all of this information about water quality and filtration, you will be able to make an informed decision about when and why to get your water tested, as well as have some solutions if you find out you do have unwanted substances in your drinking water.