Using compact fluorescent light (CFL) bulbs in your house is a great way to use less energy, save a little bit of money on your utility bills and help protect the environment.
However, breaking one of these bulbs, as simple as it may seem, can create a dangerous situation. Because of the trace amounts of mercury inside the bulb, it's important that you take proper precautions if you ever find yourself having to clean up a broken one.
Is a Broken CFL Bulb Dangerous?
Yes, it can be a potential safety concern. The tiny shards of glass that come from the broken bulb can easily cut open your skin.
But, that's probably not why you're reading this. I'm willing to guess that you're concerned about the small amounts of mercury inside of a CFL bulb, and, perhaps, what it's going to do to your indoor air quality. This is a valid concern.
Is There Mercury In CFL Bulbs?
Yes. It's true that CFL bulbs have mercury inside them. And yes, if one of these bulbs break open inside your home, your indoor air quality could deteriorate if you don't take proper precautions.
However, this scenario is much like many other emergency-like situations that homeowners often face. When something goes wrong, you take action before it gets worse. It's simple.
Let's look at the science:
Study from 2008: CFL bulbs tested contained about 3-5 mg of mercury, but the energy savings of each bulb prevents about 4.5 mg of mercury from being emitted into the air by power plants. Interestingly, this study also found that CFL bulbs contain about 1% of the mercury as old thermostats (500 mg).
Study from 2011: CFL bulbs tested only contained 0.1 to 3.6 mg of mercury, and would take up to ten weeks to emit vapors that would be considered hazardous to human health.
Study from 2012: Concluded that young infants were at the highest risk, and clean-up within the first four hours after a bulb breaks is "critical." The study also noted that the temperature and ventilation of the room play a big role in whether the air is safe to breathe.
So, yes… A broken CFL bulb can be dangerous, especially for younger kids. But the danger can be minimized if you act quickly and follow a proper cleanup process.
For more information about the dangers of mercury, please visit the EPA's website.
---
How to Clean Up Broken CFL Bulb
Cleaning up a broken CFL bulb isn't a difficult or harrowing task. It's a rather simple process that doesn't require a professional and can be completed within a few minutes. However, because CFL bulbs contain mercury, the process for cleaning it up is a bit more complicated than simply picking up glass.
Below, we have explained the process you should follow if you break a CFL bulb, as well as some general tips that every homeowner should know before they start.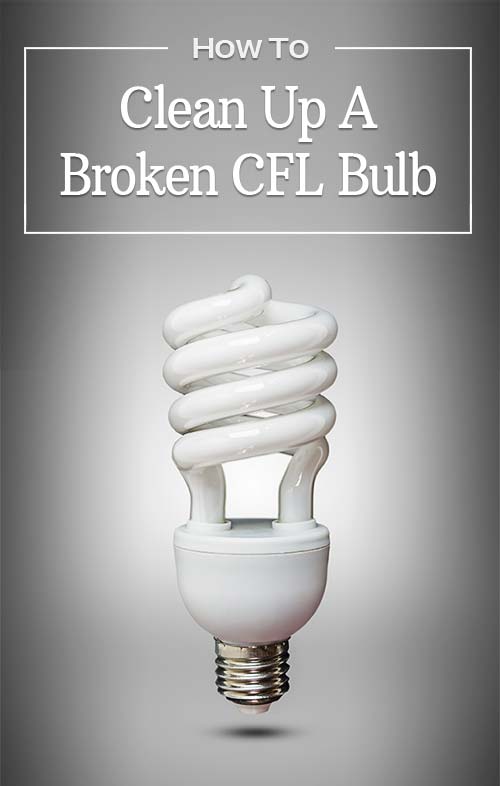 Gather Your Materials:
Cardboard, heavy-duty paper or plastic scoop.
Tape, damp paper towels, or cleaning wipes.
Plastic bag or glass jar with lid.
Procedure for Clean-Up:
First, use your cardboard or stiff paper to scoop-up the large pieces of the broken CFL glass.
Next, use tape or damp paper towels to help remove the smaller shards of glass.
Continue previous step until you feel confident that all glass shards have been removed.
Wipe area with disinfectant wipes.
Put all materials into your bag or glass jar, and seal completely.
Dispose immediately.
Note: A glass jar with a tight fitting metal lid is the best item to dispose of the broken shards of glass because it keeps the mercury vapor sealed inside.
If one is not available, a sealable plastic bag, such as a large ziploc bag, will suffice. However, if you go this route, try to handle it as little as possible. You may also want to wear disposable gloves or gloves you don't mind throwing away in order to prevent the glass shards from cutting your hands.
---
General Tips Every Homeowner Should Know
Know that you have a better understanding of how to clean up a broken CFL bulb, let's take a closer look at a few other factors that will help protect you from the mercury inside.
1) Shut Off Central AC
The first step is to turn off your air conditioner, heater, fans or any other appliance that circulates air throughout your home.
The goal with this first step is to prevent the air in the "zone" with the broken bulb from spreading throughout your home. If the area has been exposed to elemental mercury, than it is important that you prevent the air from dissipating to other areas of your home.
2) Air Out & Ventilate Room
Now that you've shut off all air conditioners in the room, open the windows and allow the room to "air out" a bit. As noted in the studies above, a well-ventilated room is an important step to limit your exposure.
It would be wise to instruct all people and pets to leave the room immediately, taking precautions to avoid the area where the bulb was broken. Once everyone has left the room, you should open windows, doors and vents to the outside, but not into the house. Use this time to gather your materials.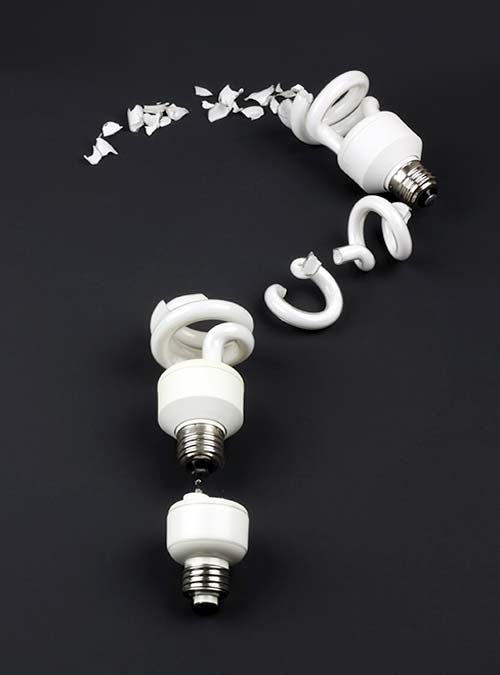 3) Clean Up Within Four Hours
Allowing the mercury to sit, undisturbed, in a room with no ventilation is extremely unsafe and will quickly degrade the indoor air quality of your home. If you're using an air conditioner, no matter what kind it may be, turn it off.
As the study above concluded, the first four hours are the most important. Try to clean it up within that time frame.
You have absolutely nothing to gain by waiting.
4) Safely Collect & Seal Debris
After you've gathered what you need, re-enter the room where the CFL bulb was broken. Leave the windows, vents and doors to the outside open in order to continue to let the mercury vapor dissipate.
Scoop up the larger pieces of glass from the floor. Place the shards into the glass jar or ziploc bag. Use the tape to pick up the smaller pieces of glass. Make sure that all glass is removed from the hard surface or carpet.
Once the glass has been picked up and placed in the jar, use the damp paper towels to clean the affected area. Disposable disinfectant towels will also be good for this purpose. All of these wet wipes should be placed inside the jar or ziploc bag. If you wear disposable gloves while cleaning up the mess, those too should be discarded inside the container
Once this has all be completed, tightly seal the jar or ziploc bag.
5) Remove From Home Immediately
Now that the broken bulb has been picked up, remove it from the house immediately. This is especially important if you used a plastic bag. This is because the plastic may not completely contain the mercury vapor inside. If not, it may then leak out into the air inside your home.
6) Never Use a Vacuum Cleaner. Ever.
Trying to vacuum up the glass from a broken bulb will only further fan the mercury vapor into the air. This is exactly what you want to avoid. Contain, not circulate.
Of course, depending on the type of floors that the broken bulb is on, this is easier said than done. Below, we have listed out some tips for cleanup based on the type of flooring.
Hardwood & Tiled Floors — It would be avoid the vacuum cleaner entirely. Stick with using a steam mop, swiffer or wet wipes to clean up the tiny shards of glass.
Carpets & Rugs — On a carpeted area, it can be difficult to find all the smaller pieces of glass from a broken bulb. Vacuuming can help, but it should be done with windows open and entry ways into the rest of the house closed.
No matter what type of flooring you have, once you completed the cleanup process listed above and picked up as much of the broken bulb as possible, you will be able to then — and only then — use the vacuum cleaner.
Note: If you decide to use the vacuum cleaner, it would be wise to use the hose attachment, keep the area well-ventilated and dispose of the bag / empty the canister as soon as possible. You don't want CFL debris sitting inside your vacuum cleaner for an extended period of time.
7) Always Wash Your Hands Immediately After
Even if you wear gloves when you clean up the broken bulb, there is no guarantee that mercury didn't get onto your hands. After cleaning up the shards of glass and throwing all the debris away in the best possible way, thoroughly wash your hands with soap and hot water.
This will help remove any small pieces of glass that may be lingering on your hands. It will also give you more peace of mind about residual mercury.
8) Dispose Hazardous Waste Correctly
Check your local regulations for the best way to properly dispose of broken CFL's. Some municipalities may require you to dispose of the hazardous waste in different manners. Some simply allow you to throw it out with your garbage.
Of course, you could always toss it out and know one would ever know. But, you don't want to inadvertently contaminate another area of our community. So, be a good neighbor, follow the law and dispose accordingly.
---
Summary
Cleanup of any broken CFL bulbs should be prompt and precise. Shut off your air conditioner to prevent circulation of air. Open windows to ventilate air in the area. Never, ever use a vacuum cleaner. And, seal the broken shards in bag or jar and remove from your home as soon as possible.