How to Get the Most Out of Your Portable AC
Like any new appliance you bring into your home, a portable air conditioner requires a little bit of getting used to, plus the typical cleaning and maintenance to ensure it is operating to its full potential. Regardless of where you install it or how often you use it, getting to know your indoor air conditioner and how it works within each room its placed, will go a long way in helping you get the most out of it.
To help you learn how to use your portable air conditioner, we've but together the following tips. These tips are designed to help you increase its efficiency, longevity and overall cooling ability. For more technical info, please refer to our list of FAQs here, or the user manual that came with your portable AC.
1. Strategic Installation
Be mindful of where your portable AC is installed. While not always avoidable, there are certainly some areas of your home that you should try to stay away from when you're installing your unit.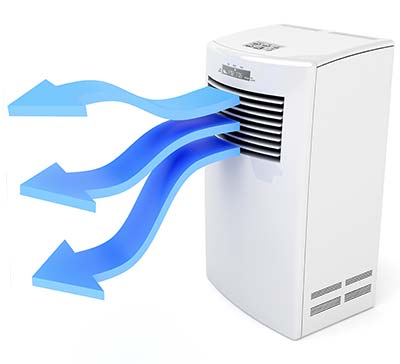 Sunny Spots
If possible, you will want to try to avoid placing the portable AC in an area that gets a lot of afternoon sun. If the heat of the sun is bearing down on your AC, it will likely need to work harder to keep the room at your desired temperature. This extra work may eventually lead to a shorter lifespan.
Humid Spots
It's also wise to install and use your air conditioning unit in rooms that have low humidity levels. This is because the higher the relative humidity is inside the room, and directly surrounding the AC unit, the more condensation it will create.
Depending on the type of portable air conditioner you are using, this extra condensation may increase the frequency that it needs to be drained and cleaned. Failing to remove this will, ultimately, lead to the unit malfunctioning.
2. The Amount of Space Between Walls
One of the main benefits of this type of air conditioner is the fact that it's portable. This gives you quite a bit of flexibility in the location of your home that it can be installed.
However, it's still important to pay close attention to where you place it.
No matter where you decide to install the appliance, it is very important that you leave adequate space between the walls and the unit itself. Failing to leave enough space will limit the airflow. When your unit is unable to draw in enough air while it is in use, its output is reduced. As a result, this reduced output makes it harder for your portable air conditioner to cool the room to your desired temperature.
Refer to the user manual to know how much space the manufacturer recommends for your specific model.
3. Ventilation
No matter what type of room air conditioner you are using in your home, ventilation is always going to be one of the most important factors for ensuring optimal operation and a long life of the appliance.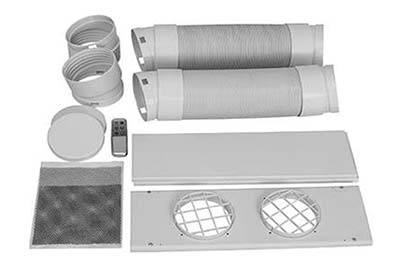 The importance of ventilation cannot be overstated, but it's especially important when it comes to portable air conditioners.
Proper ventilation will direct the hot air from the compressor and out of the room. This will help prevent your AC unit from overheating, as well as keep the temperature inside your room from going up.
Use the Right Vent Kit For Your Window
Most portable AC units come with a window ventilation kit that's designed to fit the majority of "standard-sized windows" in homes. However, depending on when your home was built, as well as the region you live or the style of your home, the definition of a "standard-size window" will vary.
It is unlikely that you should have any issues getting your ventilation kit to fit the windows in your home, but if you do, there are other ventilation options available, including kits for sliding doors and drop ceilings.
4. Keep the Exhaust Hose Straight
Now that we have ensured that the portable AC is properly ventilated, let's now take a look at the exhaust hose. You will want to limit the amount of twists, kinks or coils in the hose leading from the unit to the window. The exhaust hose should remain straight with minimal contortions.
It is strongly recommended that you minimize any kinks in the exhaust hose that will limit the airflow or reduce ventilation. This may require a shorter exhaust hose, or just simply being mindful of where/how it is installed.
What Happens If the Exhaust Hose is Twisted?
When you have a long and twisted exhaust hose attached to your portable air conditioner, the unit has a harder time with ventilation.
As a result, the moisture in the air being expelled will start to accumulate inside the hose, and eventually start to trickle back down into the unit itself. If this happens, the cooling efficiency and the lifespan of the air conditioner may be reduced.
5. Clean & Replace Filter Regularly
This is probably pretty obvious to all homeowners, but the filter in your air conditioner should be changed regularly. This is not only important to ensure proper operation and cooling, but is essential for maintaining your indoor air quality.
How Often Should I Change It?
The frequency that you clean or change your filter all depends on how often you use the AC unit. It would be wise to inspect it every 6 to 8 weeks, just to make sure that it is in good condition. If your home is dusty, or if someone in your family is prone to allergies, then you may want to consider cleaning or replacing your filter more often.
What Happens If I Don't Change the Filter?
If you're using a clogged or dirty air filter, it may reduce the intake of the unit which may lead to a variety of problems.
These problems include:
Diminishes the efficiency, costs more to use.
Harder to reach and maintain desired temperature.
Forces the AC unit to work harder than it should.
May compromise indoor air quality.
Many of these issues will only occur when the filter is neglected for an extended period of time, but nonetheless, this shows why it's important for all homeowners to regularly check and replace the filters in their air conditioners.
What If My Portable AC Has Multiple Filters?
Depending on the brand and model of the portable AC you're using in your home, you may have multiple filters inside. All portable AC units come with a pre-filter, and don't always require the use of other filters.
While these pre-filters are great at reducing large particulates that may be circulating in your air, they do very little for the common allergens that are known to lead to health complications, such as mold spores or pet dander. This is why it's recommended that you use another type of air filter in your portable air conditioner.
6. Keep it Clean
Keeping your portable air conditioner clean is one of the easiest ways you can keep the device working properly, and it doesn't take much work to complete.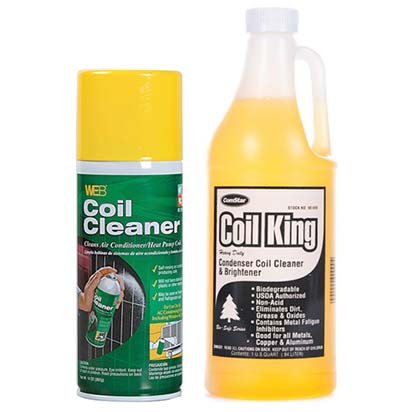 The Simple Clean:
Simply wipe down the outside of the unit down with a damp cloth. Avoid using excessively hot water or any sort of cleaning chemicals that may damage the exterior.
How Often? Do this every 4-6 weeks.
The Deep Clean:
Unplug your unit and clean the condenser coils to increase its efficiency. You can either purchase a coil cleaner to use or make your own cleaning solution with water and lemon juice. Spray the solution on the coils and remove after a few minutes.
How Often? Do this once a year.
The Professional Clean:
Sometimes, even when you clean the unit on a regular basis, you may require professional service to improve its functionality. If you experience issues with your unit that you are unable to resolve on your own, don't hesitate to contact a professional air conditioning service to clean and inspect the appliance.
How Often? As needed.
7. Store it Properly When Not In Use
When you have no plans on using your portable air conditioner, it is recommended that you store it away to keep it safe for the next season. Try to avoid storing your AC unit in an area that has extreme temperatures, such as the garage or patio.
Checklist for Storing Portable Air Conditioners
Before you disassemble your AC unit and put it away into storage, it is strongly recommended that you do the following tasks.
All water has been drained from the unit.
Turn unit on fan setting to help the inside dry completely.
Deep clean all other parts and allow to dry, specifically exhaust hoses and drain pains.
Compress the exhaust hose to prevent damage while in storage.
Cover the unit with a sheet to prevent dust or other debris from accumulating.
Store your portable AC indoors in a climate-controlled area.
8. Electrical Requirements
When it comes to the power source for portable air conditioners, most homeowners shouldn't have any issues. The vast majority of these AC units are designed to operate on the standard 120v electrical outlets commonly found in homes.
This is a pretty essential feature, as it would be difficult to move the AC unit from room to room if it required a different receptacle.
It may be a good idea to use a surge protector that can add a layer of protection against sudden power failures. It's also recommended that you are mindful of how many appliances are plugged into the outlet, as to not overwhelm the circuit.
Note: This applies to the majority of portable air conditioners used to cool rooms in your home. If you're using a commercial-size unit or a high-BTU air conditioner, you may need more electricity. All electrical requirements will be found in the user manual.
9. Pre-Cooling & Better Circulation
To help your portable AC unit cool your down in an efficient manner, it is recommended that you turn it on shortly before the room gets too hot or uncomfortable. If you wait until the sun is shining bright and the temperature is at its peak, the air conditioner will need to work harder, and take longer, to reach your desired temperature.
Another tip that every homeowner should know, is to use a small oscillating fan near the unit. This will help the cool air circulate throughout the room, and make you feel more comfortable.
---
Final Thoughts
There are many benefits that come from a portable air conditioner, but when you know how to strategically use it, you'll find that you can improve its efficiency and extend its life.
By following the usage and maintenance tips listed above, you put yourself in the position to get the most from your AC unit, all while staying cool and saving money.